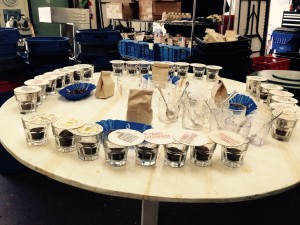 We Are Experts In Our Coffee
Each Batch Is Carefully Roasted To Achieve The Optimal Profile
The ultimate dream for coffee producers, is to have control of how their coffee is roasted and delivered to coffee drinkers and lovers alike. After years of dreaming, we are now finally able to accomplish this thanks to our amazing friends at Third Coast Coffee Roasting Company. Third Coast opened their doors and hearts to us, inspiring us to continue on our path, while renewing our passion for delivering our coffee to the local Austin community. We will be forever grateful to Joe and his entire team!
In order to allow our coffee to express it's unique personality and taste, we roast it in small batches to a medium roast profile, delivering a sweet and balanced cup with medium acidity and a full body. Notes of cocoa, sugar cane, citrus and vanilla, influenced by the neighboring trees that shade the coffee in our farm, are present in every cup. Making for a delightfully smooth experience.
We hope you enjoy our coffee as much as we have enjoyed bringing it to you!